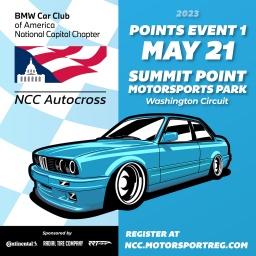 Registration is open for NCC Autocross's 1st points event for 2023!
Registration available here:  https://www.motorsportreg.com/events/2023-ncc-autocross-points-event-1-summit-point-washington-bmw-cca-052438
The full season schedule can be found on the event calendar here.
Also, its not too late to sign up for a full season subscription, which saves you the cost of membership as well as guarantees your number and spot on all future events. Contact info@nccautocross.com if you are interested.
The full season subscriptions (Points Events) are $190.00 for AM or PM session or $295.00 for all day session. Please note that Test and Tunes are not included the the season pass.