For the 2018 NCC Autocross season we have made several changes to our vehicle classing.
BMW Classing
As with 2017, we will continue with our reduced BMW classing to just 6 classes; Showroom 1 & 2, Tuner 1, 2, 3 & Modified.  There have been modifications to the classing of cars in these classes, as reflected below.
Each Group is aimed at grouping vehicles with similar performance capabilities. If your specific car is not listed below, please contact the classing coordinator to determine your class.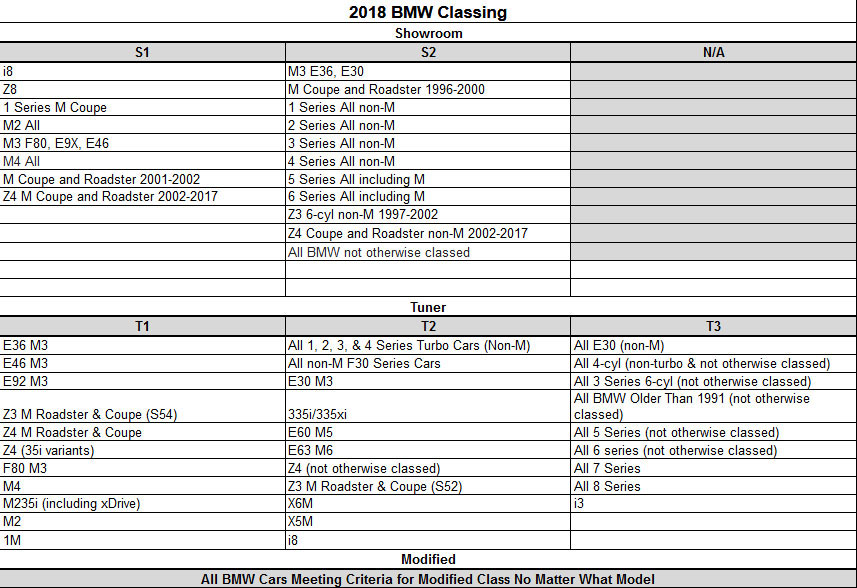 The Performance Class establishes the permitted modifications for each group. If a modification is not listed, it is NOT permitted.
NOTE: If the wheels and suspension items were FACTORY options on the model, it is permissible to interchange. BMWNA's recent offerings of "high performance dealer installed" items are a different, and are not permitted as a showroom allowance.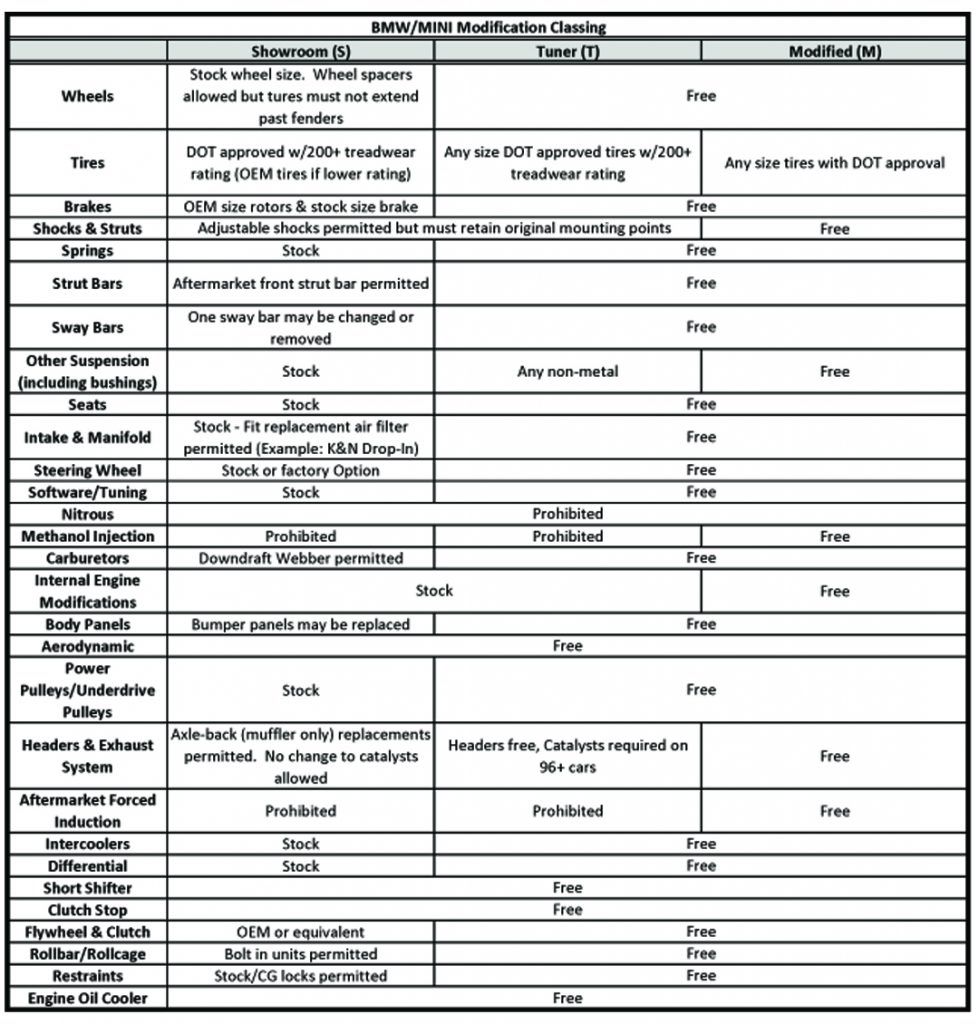 MINI Classing
All MINI's will be combined into a single PAX (theoretical performance) based group. The PAX numbers are based on the Class and Modifier. Base model MINIs are in the "3" class, and MINI S and JCW models are in the "2" class. The MINI Class Modifiers are in the table above. For example, a stock, base MINI with no modifications would be S3 and a John Cooper Works with non-factory installed springs would be in T2. Participants will need to register by choosing the MINI class then choosing a secondary BMW class (S2, S3, T2, T3, and M). The MINI PAX numbers will be based on the following: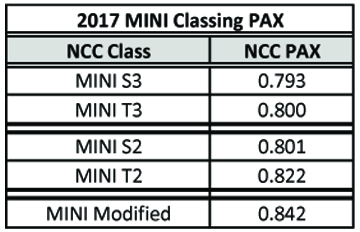 PAX Class/Non-BMW Classing
All Non-BMW classes will be combined into a single PAX class. The PAX will be calculated using standard SCCA classes. The PAX class will also be open to BMW/MINI drivers who want to participate as well. Participants will need to register by choosing the PAX class then choosing a sub SCCA class.  You can find details on how your car should be classed by referring to Appendix A of the 2018 SCCA Solo Rules Book.
Click here for the 2018 PAX Index.
Tires with lower than a 200 treadwear rating are considered competition tires.
As part of an effort to make classing more understandable, Bob Esser will be the point of contact for all classing related items. He can be reached at classing@nccautocross.com.
Pro-PAX
If you are a regular top finisher at NCC Autocross or SCCA events you should register for Pro-PAX. This puts the best drivers in their own class. All standard PAX rules apply. Separate points and trophies will be awarded. If you are a BMW or MINI driver you may still complete in the BMW/MINI classes.
Novice Class
We have a class specifically for entry level drivers. "Novice" is defined as a participant that has three or less autocross events experience prior to January 1, 2018. This experience qualifier is not limited to NCC events and is inclusive of total autocross participation. Classing will be simple: Stock, Tuner, or Modified. Car type does not matter. To qualify you must have not attended more than 3 autocross events in previous seasons. This includes events with NCC, AI, CDC, and SCCA. This does not include autocross schools. (NOTE: You do not have to participate in the Novice class because you are a novice.  You can choose either Novice or the class that best fits your car.)
2018 Trophy Qualification Rules
We have decided on the following guidelines for 2018 trophy qualification:
All classes are eligible to receive trophies.
A competitor must attend a minimum of FOUR (out of SIX) point events to qualify.
If a competitor chooses to attend all seven events, his score will be based on his five best results.
Ten points are awarded for a first place finish, nine points for a second place finish, eight points for a third place finish, etc.or BMW & MINI classes trophies will be awarded to the top three qualifying drivers in each class.
For Non-BMW/PAX Class trophies will be awarded to the top third of qualifying drivers. Example: 15 qualifying drivers. Trophies awarded to the top 5. (This may be adjusted slightly at the committee's discretion.)